Polar FT4 Heart Rate Monitor
Get back to basics with the Polar FT4 heart rate monitor and sports watch. This fitness wristband features an easy-to-use design that's created for one purpose: to log your body's activity via your heart rate. When you want to keep things old-school but maintain a modern aesthetic, this fitness wristband is for you.
The Polar FT4 is designed for ultimate simplicity. It includes a wrist unit with digital face that has a number of easy-to-access buttons to help you view your workout data. It also features a handy heart rate band that you can wear under your clothes and close to your skin to accurately track your heart rate. Whether you're new to fitness trackers or just new to fitness in general, the Polar FT4 is a simple option that fits your needs.
You can quickly and easily set an alarm to wake you in the morning or kick start the day's workout right through the sports watch part of the fitness wristband. The band is waterproof up to 30 meters, making it easy to wear when taking short swims or in the shower. Easily display your results in one of 8 languages including English, Spanish, Finnish and Portuguese to fit your roots and your preference. You can easily check the date and time on this simple digital interface as well.
Wear this fitness wristband and accompanying heart rate monitor while you run, walk, cycle or hit the weights at the gym and rely on the proven accuracy of the heart rate band to log your workout data with ease. You can rest assured that your workout data is accurate by setting up your unique profile in the device including your age, weight, height and sex. This ensures better accuracy when calculating data on your calories burned and other fitness data.
The Polar FT4 also comes with an innovative training computer that allows you to access data in a snap. The HeartTouch feature allows for button-free operation of the fitness wristband, perfect for when you're wearing training gloves or your hands are otherwise out of service temporarily. By bringing the training computer close to the transmitter, you can gain access to the device's signal and check your data that way. The computer also allows you to see at a glance what intensity your body is working at, allowing you to better control your desired intensity for greater results.
This easy fitness bracelet is a great option for those starting their fitness journey. When you're not looking for the features of a smart watch including phone notifications or music control, and don't desire the sports-based capabilities of other activity trackers, the Polar FT4 is a life saver. Skimp on the fancy details and get right back to basics with this fitness bracelet and heart rate monitor. Take it to the gym, or to the park with the kids. Take it to the trail or the sidewalk. No matter your route or your goals, this effective fitness bracelet is there to help you step up your game and find your best fit self. Why not go buy the Polar FT4 now.
Checkout best rated fitness bands in 2020 here.
Garmin Vivofit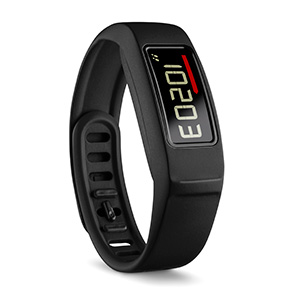 Many fitness bands, such as the Jawbone UP and the Fitbit Flex seek style over function. They possess a sleek, lightweight design that gives little feedback to the user until you sync it with your phone or computer. The Garmin Activity Tracker takes the opposite approach with a bright, bold display that can give a lot of information to the user while wearing it.
Despite Garmin's history in the GPS arena, the Garmin Vivofit Tracker does not use GPS technology. Like most other fitness bands, the Garmin uses a built-in pedometer to count steps taken and uses that to calculate exercise during the day. Like other fitness bands, it also monitors amount and quality of sleep at night. Unlike other fitness bands, the Garmin Vivofit has replaceable batteries which last up to a year, rather than built-in rechargeable ones.
The big difference in the Vivofit is the LED display screen. The default display is your progress with your daily goals. Instead of counting up to your goal, the Garmin Vivofit starts with the goal and counts down to zero. The default goal is 7500 steps a day, but this can be changed by the user. The Vivofit will try to learn your current activity level and adjust it as needed. As you meet the goal set for you each day, the Garmin Vivofit will raise the bar slightly, pushing you toward a more active and healthy lifestyle.
Another feature that many people love is its ability to keep you from getting too idle. The display shows a red bar across the top after you have been inactive for an hour and it gets larger the longer you sit. As with other fitness bands, unless you add the available heart-rate monitor, swimming, and other activities need to be logged on the website or using the app. Unlike others, however, is that the Garmin Vivofit is tested water-resistant down to 50 meters, so you can take it swimming – it just doesn't track it very well.
The Garmin Vivofit synchs using Bluetooth to iPhones and compatible Android devices. It can also sync wirelessly with your computer using a USB dongle. Via a separately available heart-rate strap, the Garmin Fitness Band can also track heart rate, making it one of the most complete fitness bands on the market. This feature can provide fitness statistics above and beyond just steps per day. By incorporating a goal of raising your heart rate and keeping it elevated for an extended period of time, the Garmin Vivofit can help track other activities, such as cycling and swimming.
Note: You can also find best fitness trackers in India here.
Fitbit Flex
The Fitbit Flex is a very lightweight and comfortable fitness band. It is made of a soft, flexible material about the size and shape of a watchband. It attaches to your wrist by means of a clasp and has a display of LED lights. Some have found the clasp difficult to use at first, but once worn for a few days, it becomes more pliable and easier to use. Like all fitness bands, however, the Flex is made to be worn all the time, so taking it off and on shouldn't be an issue. You need to remove it go swimming or if your wrist will be immersed in water, but you can leave it on for showering. One reason for its water-resistance is that the electronics are in a small device that fits inside a pocket on the band.
Once in place, the Fitbit Flex tracks your daily activity based on its accelerometer. It will use stats you enter on your smartphone or the website to calculate calories. Unlike some fitness devices, it doesn't have an altimeter, so it can't factor in hills or stairs. Since you can't take it swimming, it can't track that activity. It also can't track cycling. You can enter other activities via the app. At night, it tracks the amount and quality of your sleep.
Once you accumulate some data, you will sync it up to the application on your smartphone and/or computer, which in turn syncs with the Fitbit website. You can also set up third party apps, such as Fitness Pal to sync with your Fitbit device. The Flex syncs directly using Bluetooth with an iPhone and some Androids. It syncs with your PC using a USB interface. The USB device also charges the battery. From the app or website, you can enter data such as foods you eat and other exercises not tracked by the Flex.
The Fitbit Flex is made to be worn all day and night. It keeps track of every step taken and how much sleep you get in any 24-hour period. The 5 LED lights on the front handle a variety of tasks. If you tap them, they show how close you are to your daily goal on a scale of one to five. You can set silent alarms which use the LEDs and a vibrate feature. When charging, the lights show how much charge it has and when it is completed. To enter sleep mode, you tap the Flex several times quickly, and the lights change to two blinking lights. Note you can set the alarm to wake you up in the morning.
Fitbit Charge HR Heart Rate and Activity Wristband
For the everyday athlete looking to better manage their day-to-day activities and achieve better overall health, the Fitbit Charge HR activity tracker is a great option. Created from one of the leading fitness bracelet creators in the U.S., the Fitbit Charge HR features an easy everyday look without the fuss and frills of some other wearable fitness trackers.
This tracker has a smooth design with a simple LED interface that allows you to easily view your total steps, flights of stairs climbed, time of day, and your heart rate anytime. This tracker even lets you get a sneak preview of your calls with Bluetooth Caller ID. Decide if you want to answer a call before even reaching for your phone by simply checking the face of your fitness bracelet.
The Fitbit Charge HR includes a number of handy features that aim to help you get a better idea of your overall health and fitness. The easy heart rate monitor works 24/7, allowing you to see exactly how hard your body is working while you run, play, do yoga, or engage in any other physical activity.
It can even tell you how many minutes of day you've been active, giving you a better idea of your sit-to-stand ratio on any given day. With a quick glance at your total minutes, you can decide whether to take another lap around the block with the kids or head in the house for a snack. It's never been easier for the everyday fitness seeker to gain control of their fitness than with this fitness bracelet.
Fitbit Charge Technology:
This tracker utilizes Fitbit's SmartTrack technology to automatically recognize and record various workouts. This is a step up from Fitbit's previous models, and allows you to start and stop a run or one-on-one with just the press of a button. Get real-time stats on your performance as you go, right on your wrist. No more working through a cumbersome app or relying on your memory to track your workouts!
Fitbit doesn't just track your active time during the day, either. Keep this lightweight fitness wristband on while you sleep and let it track your night as well. Wake up and review your night through a series of online charts and graphs that effectively let you know how soundly you slept.
All of this information comes together through the multi-faceted Fitbit app that is, according to Fitbit's website, available on over 150 smartphone brands. Get an overview of your day, week or month on the app, and continue your fitness journey with the app's handy food tracker. Pair with friends to compete for prizes, or take on a solo challenge to up your steps or active minutes. It's truly never been easier to get in control of your health than with this fitness wristband.
If you don't need any more convincing Buy The Fitbit Charge HR Now it has everything you need to begin your fitness journey. Leave clunky physical workout journals in your junk drawers, and don't worry about jumbling through a number of apps to track your steps, calories burned and your workouts. Get it all in one without too much thought with the Fitbit Charge HR.